Mix and Match Holidays
by
sarah
I've always had really hard time buying holiday cards. My dad's family is Jewish. My mom's family is Catholic. I grew up in a primarily Jewish neighborhood, celebrated Hanukkah and Christmas at home, and had friends who celebrated everything from Christmas to Hanukkah to Winter Solstice to Nothing At All. I spent many long hours scouring the stores for cards that weren't red and green or blue and silver, with lovely snow scenes and vague wishes like "Season's Greetings" and "Happy Holidays," before I finally gave in and just started buying three or four different boxes of cards every year. But with 18 or 20 cards in a box, I always ended up with extras of everything, which led to the inevitable "did I send Aunt Susie this same card last year?" 12 months later.
That's what I had in mind when I designed our new holiday cards. We've got three designs – Christmas, Hanukkah, and Let it Snow – which should cover almost all the bases. You can buy each design on its own in a box of 8, or you can mix and match your own assortment, to get just the right combination for you.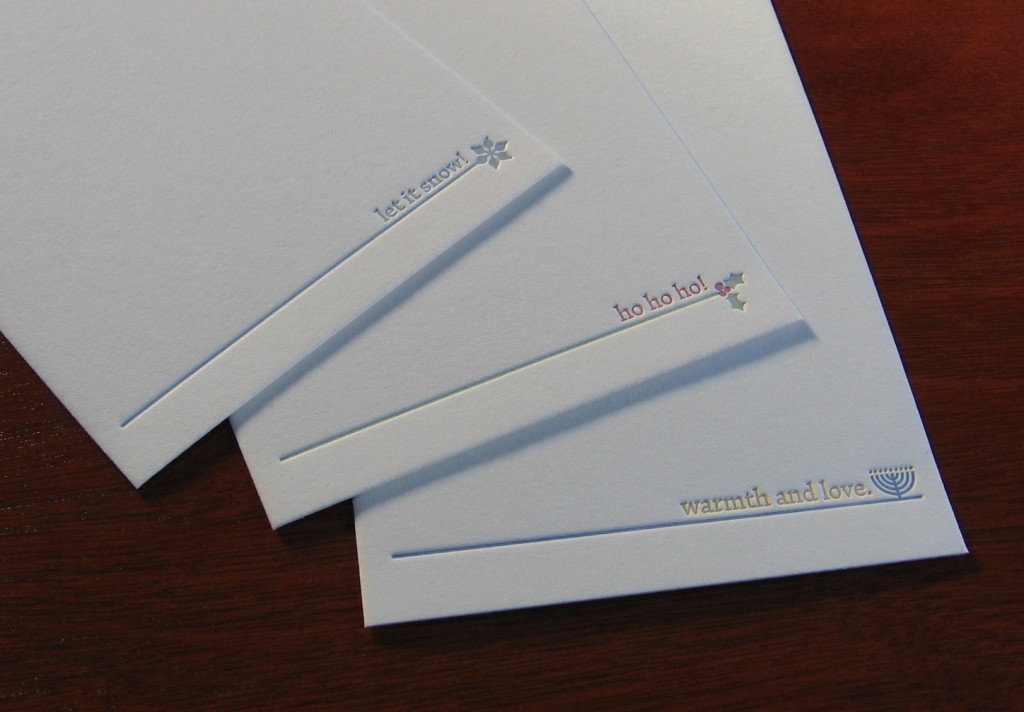 Need mostly Christmas cards, except for that one friend who celebrates Hanukkah? Done. Got a family that's a 50/50 split, except for your atheist cousin? No problem. Just order a box, and let us know in your order comments what assortment of cards you'd like. Then revel in the fact that you won't have boxes and boxes of leftover cards to put away after the holidays!