It's Been a While…
by
sarah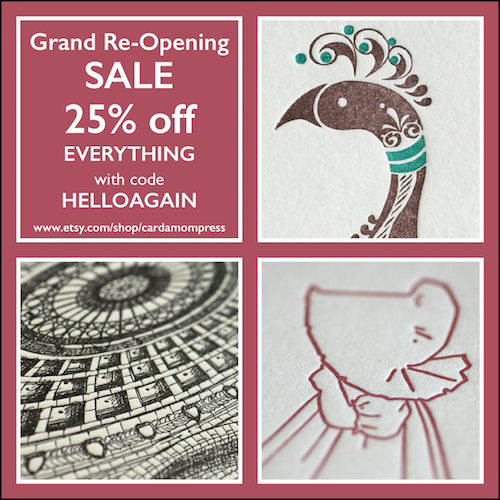 Hello, lovely people!
I can't believe it's been three years since I posted anything here. Or on twitter. Or, y'know, paid attention to my business at all… But I miss you all! And I feel like I had a pretty good excuse: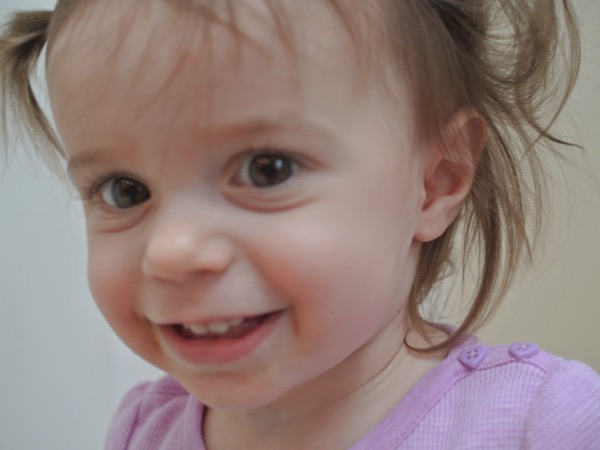 In the spring of 2013 I went on maternity leave with this little munchkin, fully intending to get back to printing in about a year, once she was a little older and our lives were a little more settled. (Ha! New mother naivete, right there…) Clearly, that didn't happen. I printed a huge stock of cards and prints before I went on leave, and my Etsy shop has been active since then, but I haven't made it much of a priority – listings were expiring and not getting renewed, inventory was all wrong, and I've even got a few things that I never took photos of, so no one has ever seen them!
I'm taking baby steps towards changing that now, though, so I'm happy to announce the Grand Re-Opening of the Cardamom Press shop! With a few changes. Here's what's happening:
The shop is live and up-to-date with my current inventory, but I'm still not printing – I won't be taking custom orders, and I won't be restocking items when they sell out. Hopefully that'll come with time (maybe when the munchkin starts preschool). So if you see something you like, get it while it's still in stock!
You'll still find the Pittsburgh and Seattle 8×10 prints in the shop, but the cards have moved. While I was out of commission, we moved the Landmarks cards over to Cityhopper Studios – Erin did the original drawings for the cards, and she's taken over production as part of her budding illustration business. Seattle and Pittsburgh cards are in her shop now, and she's got Chicago cards in the works.
I've still got a big stock of gorgeous designs by amazing artists, and I want to get them out into the world where people can enjoy them! In an effort to do that, I'll be showcasing a different product each week, and doing lots of sales and giveaways. Keep an eye on Twitter and Facebook for updates on all of that.
Finally, as part of the Grand Re-Opening, we're doing a huge sale for the rest of the month of April. Use the code HELLOAGAIN at checkout, and you'll get 25% off your entire order. And if you order more than one item, you might also get a special surprise in your package. Maybe. Just sayin'.
Thanks for sticking with me and reading this even though I've been gone for years. It's good to be back!