The Making of a Drawing
by
sarah
Erin just finished her drawing of the Seattle Central Library, and it is truly stunning. The contrast of light and dark, the reflections in the angled glass – it's all gorgeous. I'll be printing it in the next week or so, but in the meantime, I thought it'd be fun to share some of the progress photos she took as she was working on it. So, without further ado, I present The Making of a Cityhopper Drawing!
Every cityhopper drawing starts with a photo. Erin currently lives in the SF Bay Area, so she can't always visit the buildings in question in person – much as she'd like to! Plus, a drawing like this can often take her up to 10 hours (!!!) to complete, and the changing light and shadows from day to day would make all of those reflections practically impossible to render. This photo was taken by the lovely Becky Jahns, one of our cohorts in Seattle who helped us out with putting together this set: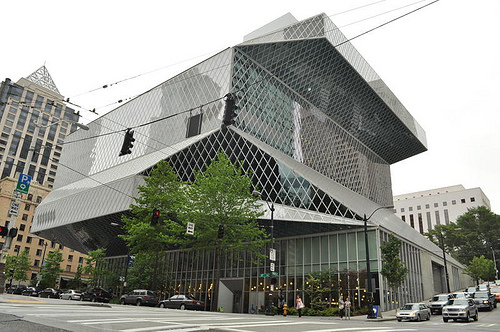 Here's Erin's first progress shot – she's got the basic structure laid out, and she's starting to render each individual pane of glass:
Progress shot #2 – starting to fill in light and shadows, leaving space for where the trees will be:
And, 10 hours later, the final drawing. Gorgeous!
I'll be getting plates made next week and printing as soon as they arrive, so stay tuned – we'll have Central Library note cards available within the next few weeks!