One Year
by
sarah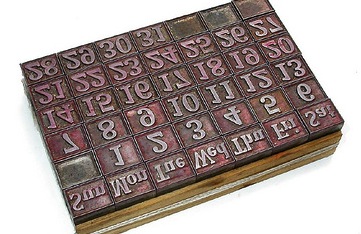 The annual Sapling Press Valentine's Day Studio Tour is coming up, and that means that this weekend marks one year since the first time I ever touched a letterpress. When I saw the announcement about the studio tour last year, I had never even seen a letterpress. I decided to go because I love all kinds of printmaking (I took printmaking classes at the museum and Carnegie Mellon all the way through middle and high school), and I thought it'd be kinda cool to see another kind of printing I knew nothing about. Little did I know, that day was going to change my life.
The tour was fabulous. Down in the depths of The Design Center, a gray Bloomfield office building I had never even noticed before, Lisa and Lisa showed us around the studio, explained the whole printing process, and showed us some samples of letterpress invitations. Then we got to print. Our own valentines. On the letterpress. I printed four valentines that day, two of them with 2 colors (I know, pretty cool, right?), and by the time I had finished them, I was in love. The feel of the paper, the texture of the impression, the sheer amazingness (is that a word?) of using this big, old, antique piece of machinery to create something so delicate and beautiful. I had to learn more.
I went home after the studio tour and showed my treasured letterpress valentines to everyone I knew. I couldn't stop thinking about it. For weeks. Finally, I tweeted Lisa to see if she could use some help around the studio, in exchange for teaching me a bit more about her craft. That was late February.
In the last 11 months, Lisa has taught me a tremendous amount about the craft of letterpress printing, although I have a million times more that I still need to learn. I've started a business, launched a line of Pittsburgh cards and prints designed by a dear friend, and designed my very own line of holiday cards. I've started selling in shops all over Pittsburgh, sent a little piece of home to 'Burghers all over the country through my Etsy shop, and met dozens of amazing new friends. We're working on new lines for Seattle and Chicago, and we've got plans in the works to expand our Pittsburgh line with 5 new designs. All in 11 months.
Sometimes, I sit down and think about all the things that have happened in the last year, and I can't wrap my brain around it. How did this happen? A year ago, I was just a former-stage-manager-turned-personal-assistant-but-not-really-working-'cause-we'd-just-moved-and-bought-a-house. Now I'm a letterpress printer. With a business. And people want to buy the things I make. Amazing. It's been quite a year, and I couldn't have done it without a huge amount of support and encouragement from my family and friends and tweeps and blog-readers and letterpress-lovers, so thank you all. Here's to many more great years ahead!