As I'm sure many of you stationery lovers out there will agree, finding the perfect calendar can be quite the undertaking. In my past lives as a stage manager and personal organizer, I spent years trying every calendar system I could find, searching for the one that was the right fit for the whats, wheres and hows of my life. I tried half a dozen different computer-based calendars, plus multiple shapes and sizes of paper calendars, before I finally gave up on the store-bought variety all together. I decided to just figure out what I needed and make my own, and after several failed attempts – involving computer printouts, excel files, binders, and even construction paper and crayons – I finally hit on the perfect calendar system for me.
My biggest problem with calendars is that I'm terrible at seeing how dates fit together, and understanding how many weeks it is between particular dates. I needed something where I could see all of the weeks adjacent to each other (like a monthly calendar), but with enough space to write down all of the notes and appointments I had every day (like a page-a-day calendar). I also didn't want it to be huge, because I needed to have it with me at all times, and my beloved Levenger bag just isn't that big.
I finally found the solution while I was (once again) drooling over the Moleskine notebook selection at a local bookstore. They had a variety I had never seen before – the Japanese Album – and I instantly fell in love. The accordion-style pages were perfect for me – I could put one week on each spread, but then I could open it up to see as many weeks running together as I needed! Plus, the pocket-size version is just right for throwing in my bag, or even stashing in a coat pocket if need be. I had found my calendar format!
Next, I needed to figure out how to lay out the pages. One week per spread was a necessity, but seven is a weird number – so I ended up deciding on 8 boxes per spread: one box per day, plus an extra one for weekly notes and to-do items that don't fall on a particular day. Here's the layout I ended up with: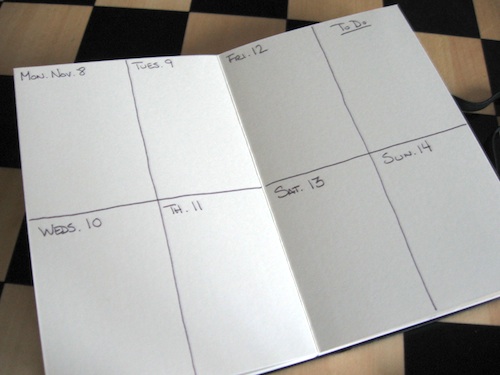 Using this layout, I can fit about 6 months into one Japansese Moleskine; I stock up on the notebooks whenever I find them, so every 6 months I just grab one from the stack in my closet and spend an hour making myself a new calendar. I've got it down to a science, so I thought this time I'd document the process, for anyone who's interested in making their own. Here goes:
First, I go through and draw all of the boxes, which takes about 10 minutes. I use a .5mm Alvin Penstix because it makes nice, uniform, permanent lines, and because it has an "india ink quality" to it, so it actually comes out a sort of dark charcoal gray, which I love: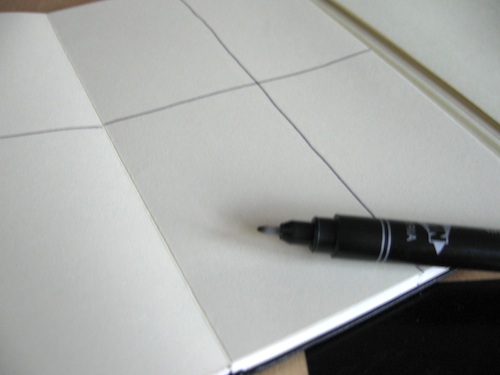 Then, I go back through and put in all the dates (this is the time-consuming part, around 20-30 minutes). I write the day and date in each box, but I only put the month in the first box (Monday) of each spread. This is a huge time-saver, and all I have to do is look at Monday to see what month I'm in on any given page. The only exception is on the first day of a new month – the month goes in that box too: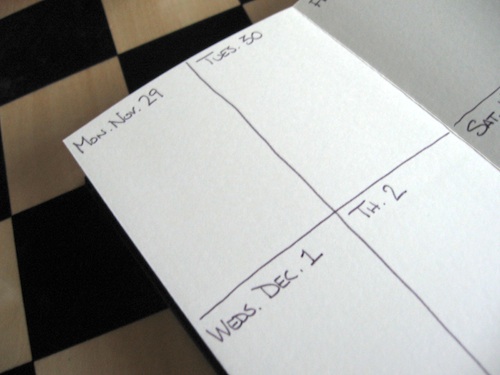 I also use the extra box as a weekly to-do list, for little reminders of tasks that don't need to happen on a specific day: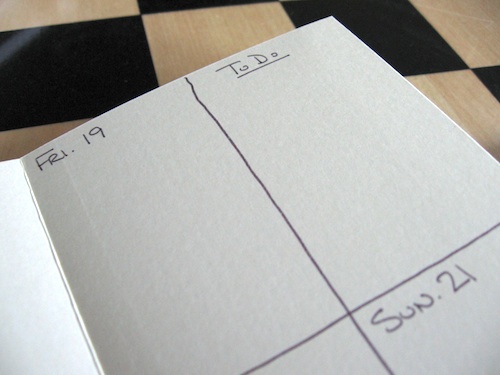 If you're following along with your own Japanese Moleskine, you'll notice that at the end of the first side of the accordion, you've got an extra flap – one page that's not part of a spread on the front, but is necessary as the first half of the first spread on the back. That page works great as a quick reference, because it's the first thing you see when open up the back cover of the notebook. You could put all sorts of things there – important phone numbers, friends' birthdays, bus schedules – but I like to use it for a yearly calendar, so I can get a quick overview of the whole year at a glance.
There are lots of downloadable compact calendars out there – I like the ones at CalendarsQuick.com, but any 3×5 index card or hipster PDA calendar will work. I just print out the year I want, cut it down to size, and stick it on the back flap with some double-stick tape. Voila:
All-told, the whole process takes less than an hour. Tedious while you're doing it? Yes. But I think an hour of my time every six months is a small price to pay for the perfect calendar. As you can see, I've been making my calendars this way for seven years (!!!), and I haven't given up yet!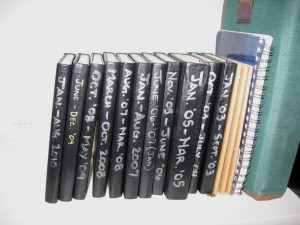 So, what's your favorite kind of calendar? What system do you use? Share your ideas in the comments below – I love learning about how other people organize their lives!