Update: Hello, Cityhopper facebook friends! The contest over here ended yesterday, but we've got one more box of cards to give away. Head back over to the comment thread on facebook, and tell us what city you'd like to see next. We'll randomly pick a winner from the comments next Thursday, March 31st. Good luck, and thanks for stopping by!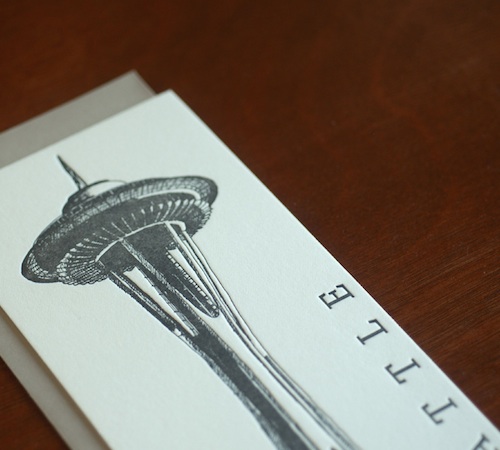 Goooooood morning, Seattle! We are thrilled to announce our new line of Seattle Landmarks Letterpress Note Cards, hot off the presses. We've got a set of 5 gorgeous drawings of Seattle architecture done especially for us by artist Erin Auses of Cityhopper Studios (go check out her Facebook page – she's got even more great drawings there!) These 5 drawings are available as single cards and in boxed sets, and we're printing each design in a different color, as well as in a stunning all-black version. We're hoping to be selling the cards in stores around Seattle soon, but in the meantime you can find them all in our online shop.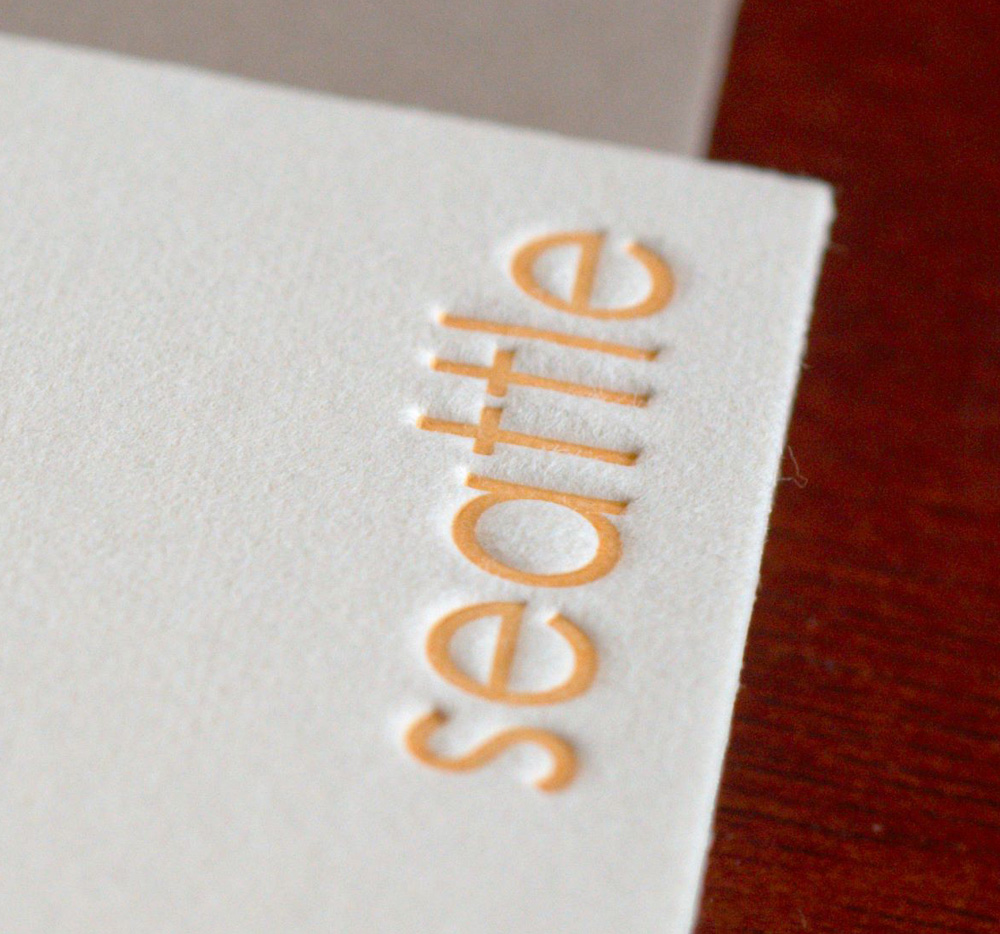 To celebrate our first venture outside of Pittsburgh, we're also having our very first giveaway contest! We've got two boxes of First Edition Space Needle cards, which are not for sale anywhere – the only way to get them is by winning this giveaway. We printed these lovely cards in copper and pale blue from an early drawing that Erin did of the Space Needle, when we were doing our first test prints and considering whether to embark on this crazy letterpress adventure together. We printed about two dozen of them, and I only have 10 left – and I want to give them to you, our lovely readers!
So here's the deal:
I'm giving away one box of 5 cards here, and Erin is giving away the other box on the Cityhopper Studios facebook page, so head over there and enter to win those too! (Note: The Cityhopper giveaway isn't posted yet, but it will be soon – check back later today!) There are three ways to enter here – feel free to do all three for extra entries!
Visit our Etsy shop, then come back here and leave a comment telling us what your favorite item is.
If you're from Seattle, leave a comment with the name of your favorite local stationery/gift/museum shop (yes, we're using you for market research). If you're not from Seattle, tell us what city you'd like us to come to next!
Tweet a link to this giveaway with the hashtag #seattlecards, and then leave a comment here telling us you did. (If you want, you can just retweet this: I just entered the giveaway @CardamomPress. You should enter too! http://bit.ly/hSBFbF #seattlecards )
The contest ends next Wednesday, March 23rd, at 11:59pm EST, and we'll randomly choose and announce the winner sometime Thursday afternoon. Good luck, and thanks for being a part of our very first contest – we can't wait to read your comments!